I met Matt Fox and Enrique Crame III, the owners of Fine and Dandy, as I badly needed a bowtie for Le Nozze di Figaro at the Met and they saved my life with class and style ! If you ever need style and fashion advice while in New York, you must visit their place in Hell's Kitchen.
They sell what they call "accessories for dapper guys", but what I liked the most with them was the attitude. Simple and elegant, as a man should always be ! Meet the owners of Fine and Dandy !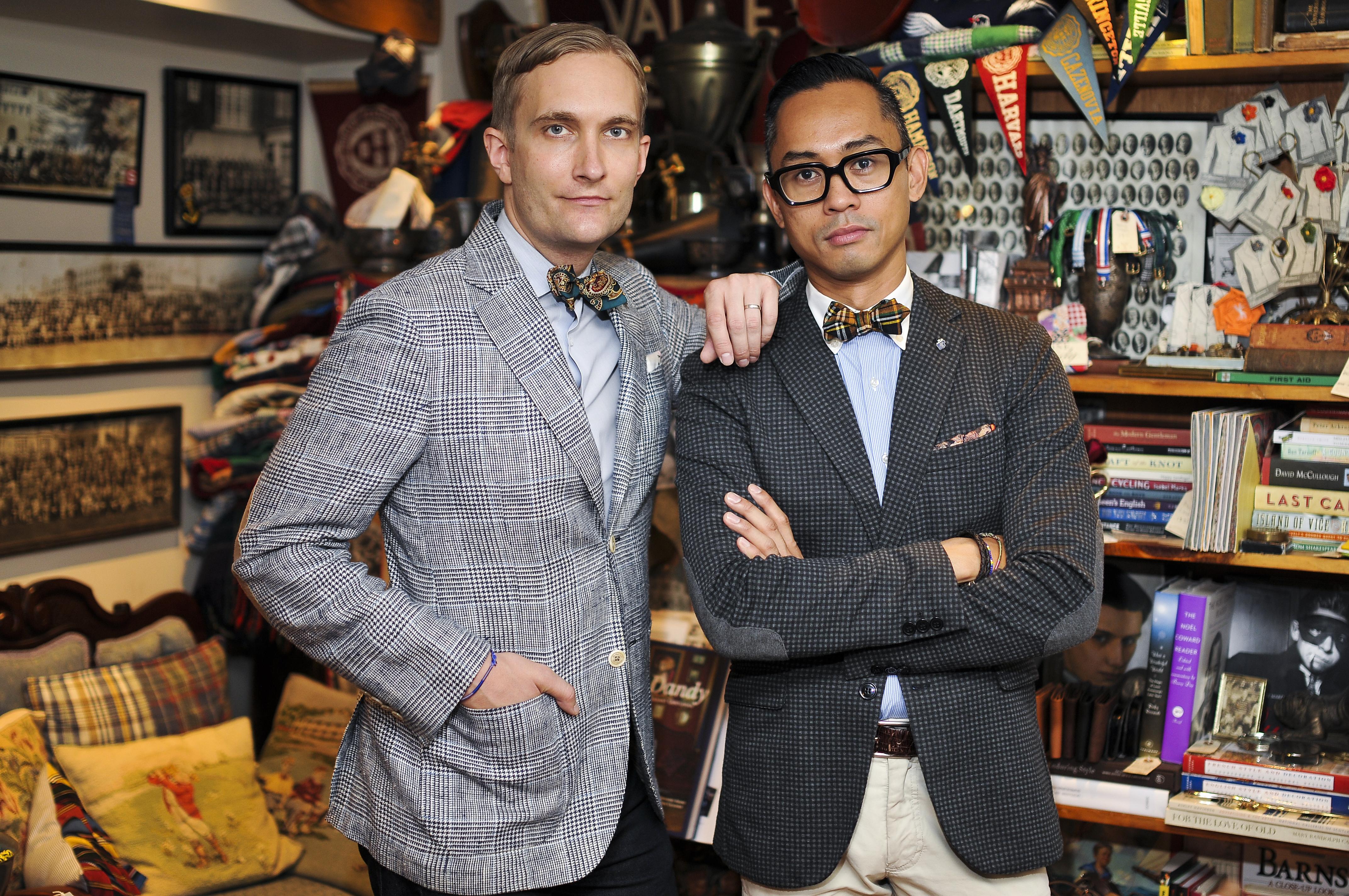 What led you to creating this fine place ? Why were you attracted to menswear and menstyle ? What was your inspiration when you started ?
We launched our web site in 2008 as a side project. We both had other careers and we were looking for a creative outlet. We've always been attracted to the aesthetic so it was a natural choice.
In 2010 we started doing pop-up shops which were amazing experiences – to meet our customers face to face. Eventually we decided it was time to look for a permanent space and we opened up our shop in Hell's Kitchen in 2012.
Do you read any blogs for men ? Would you have any recommendation for our readers ?
We're big fans of George Hahn, a men's lifestyle blogger. He was one of our first customers in the shop and we've become great friends. Valet is a great resource for all things in a guy's life: style, grooming, fitness, etc.
And of course there is the wonderful Ivy Style, one of the first in the land of men's style blogs.
If someone knocked at your door asking you for three representative places of Hells Kitchen, what would you tell them ?
Fine And Dandy, of course! But if we can't include our own shop…
Little Pie Company is a dessert shop that's been around for decades and their Sour Cream Apple Walnut pie has accompanied me to many Thanksgiving dinners. They have a small seating area out front where people congregate and it feels very Hell's Kitchen to me.
Chez Napoléon is a wonderful, old-school French restaurant that has been practically unchanged since it opened in the 80's. It's very quirky!
Joe Allen is a favorite of the Broadway community and we love to sit at the bar after seeing a show and enjoy some cocktails and a post-show meal. There always seems to be a celebrity or two tucked away in a corner table.

What are your 3 prefered items right now in your shop ?

Picture by Jenny Anderson

For spring we did a collection of double-sided bow ties and they're our favorites of the moment. Floral patterns always get us excited for spring and making them double-sided makes them that much more interesting.

We started doing custom shirting last year and we've been obsessed, making shirts for each other. It's such a fun process to design a shirt for yourself and to have it arrive from our partner's factory in Tennessee a few weeks later.

Last year we collaborated with a third-generation hat maker from Donegal, Ireland and we're thrilled with the results. The tweeds are incredible and have been very popular.

Fine And Dandy
445 West 49th Street, NYC 10019 – (212) 247-4847
Instagram / Facebook / Twitter